Our thanks to the jury for their hard work and the many hours reviewing this year's submissions.
The 2021 Holiday Sale Vendor Jurors
Maisie Broome ՚08  of Myfawnwy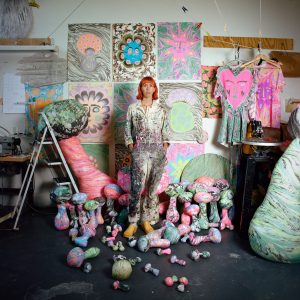 Myfawnwy is the art and design studio of Maisie Broome. Maisie's work explores the transformational effects of nature, pattern and emotion through the mediums of sculpture, printmaking, experimental textile, clothing and object design. Often working with the technique of marbling, Maisie floats ink on a buoyant liquid surface and 'draws' with it to create whimsical and unique imagery. Born and raised in rural Maine, Maisie now lives and works in NYC. Myfawnwy is her middle name and translates to 'my rare one' in Welsh. Every item is carefully crafted by hand in her studio.
Ashley Page ՚20
Ashley Page is an interdisciplinary artist living and working in Portland, ME. She presently holds a BFA in Sculpture and a Minor in Public Engagement from MECA&D. As a maker, a curator, a woman of color, a community member, a little sister, and a daughter, she creates space for dialogue, representation, intergenerational exchange, and creative expression. She is currently the Studio and Programs Coordinator at Indigo Arts Alliance, where she works within the intersection of art and activism. In spring 2020, she was awarded the Heart and Soul Student Award by Maine Campus Compact for her D.E.I work as a student while at MECA&D. In 2018 – 2019, she was a Warren Public Engagement Fellow at MECA&D where she collaboratively developed her artistic philosophy of representation, diversity, equity, and justice. More recently, she was a 2021 Maine Craft Association Apprenticeship recipient with Lissa Hunter serving as her Mentor in sculptural basketry. 
Missie Yasko of juju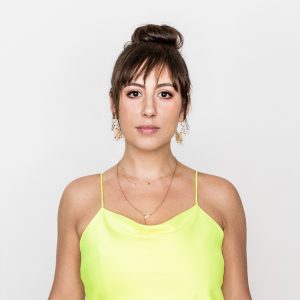 A native of Western Maine, Missie Yasko received her BFA from the School of the Museum of Fine Arts, Boston with a concentration in graphic design, ceramics, glass and small metals. Upon graduating she taught Graphic Design at the MFA School for several years and continues her work as a full-time graphic designer today, specializing in brand identity. In the summer of 2019 Missie opened juju, a small shop offering colorfully curated goods in Portland's Arts District. Juju focuses on supporting independent, female-owned brands, and regularly hosts workshops with local artists across a variety of mediums.
The 2021 Holiday Sale Window Jurors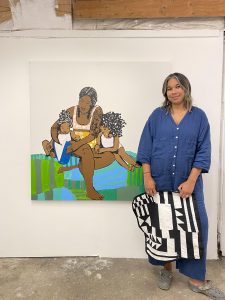 Rachel Gloria Adams is a textile designer and painter living in Portland, ME. Inspired greatly by her beloved state of Maine and the beautiful chaos her two daughters bring, Adams has developed a vibrant, graphic pattern-based visual language filled with references to the natural world. An ongoing project and business venture TACHEE utilizes this imagery she developed through painting as textile prints. Rachel is currently developing a body of work that depicts her experience as a black mother and artist through a series of paintings and quilts.
Rachel and husband, Ryan Adams, have recently taken on a series of murals, Piece Together Project, throughout Portland's East Bayside neighborhood celebrating locals that have shaped the community.
Hannah Rosengren ՚13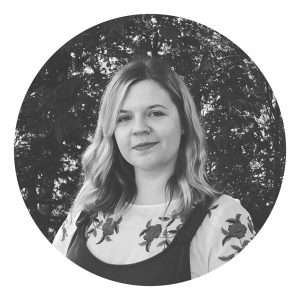 Hannah Rosengren is an illustrator in southern Maine. She has a penchant for plants and pollinators, often drawing inspiration from the natural world and mid-century modern design for her illustrations and hand-lettering. Hannah earned a BFA in Illustration from MECA where she currently teaches in the Continuing Studies department.