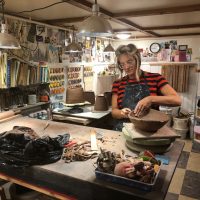 Kari Radasch '97 of Radasch REDware
Kari Radasch is a native Mainer, mother, potter, tile maker and educator living in
Portland Maine. She received her BFA from the Maine College of Art and her MFA
from the University of Nebraska – Lincoln. Kari makes celebratory pottery using
earthenware clay, color as a metaphor for joy, and an occasional historical reference
and ironic nod to kitsch objects. She plucks nostalgic observations from her life and
reassembles and reimagines these investigations, onto functional dishes and tile– a
format that has the unique ability to hold a warm, sentimental place in our lives. She has taught workshops and lectured across the country and loves to share her
excitement for clay with her students.