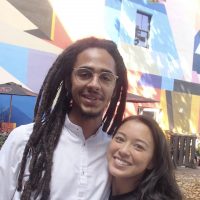 Madison Poitrast-Upton '20 & Jordan Carey '19 of LOQUAT
Our materials, motifs, collaborations and contributions are selected to directly benefit and empower marginalized people, causes and aesthetics. Our goal as artists and designers is to honor the individuals, traditions and communities that have made LOQUAT possible.
Madison & Jordan's Goods for Sale
These resin dipped earrings made with dehydrated kiwi are the perfect gift for the one you love.