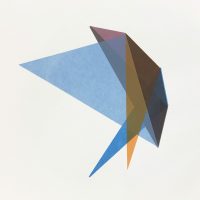 At MECA Printmaking students grow ever-more aware of subtlety and nuance through their eyes, hands and even ears. Our course offerings allow students to develop formal and material sensibilities; hone professional development skills; and study the history of print as a fine art form, a vehicle for vernacular culture, social dissent and cultural identity. Students choose from among classes in intaglio, silkscreen, monotype, relief/letterpress, while a required course in lithography offers pan-departmental understanding of how centuries-old technology can empower today's image makers. Students learn to translate pixels into ink, bringing digital images, text and/or patterns into the material realm through etching, relief, silkscreen, monoprint, letterpress, CNC or laser cutters, or 3D printers.
The students who opted into presenting work through our Holiday Sale table were James Cousens, '21 and Kate Williams, '22.
See additional student work and shop online 11/22-24 with curbside delivery available through the department's pop up "Window Shop," shopable here, or visit @mecaprintstagram for more info or to peruse a broad array of student print work.
The Printmaking Department's Art for Sale